Dear friends,
Colloquial cookin' is here to help you:
1- prepare for your next cooking holidays in France. Swearing will make helping hands chop/peel/clean up faster, it will also ease the pain when you accidentally squirt lemon juice in your eyes.
2- sound professional in your kitchen by swearing in an appropriate language, i.e. one that the kids do not understand.
Colloquial cookin' declines all responsabilities if you get punched or thrown out of a restaurant subsequently to using any phrase found on this blog.
The recipe we try today comes from a French blog, la Food Box. It was nice to use up those baby turnips with fresh orange juice. I'm not turnips' best friend usually, but those babies really rocked (c'est le pied, ces navets).
The original recipe called for caraway seeds (des graines de carvi [karvee]), but I had to skip that, didn't have any. Hard times! (c'est la dèche!)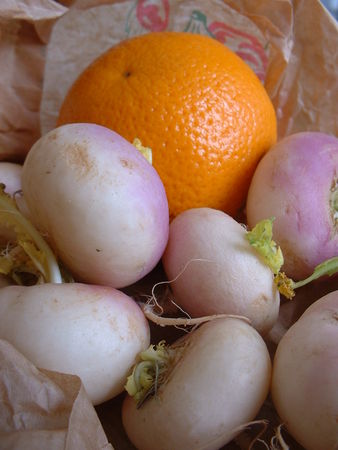 Ok so ingredients for one (yours truly- mézigue)
about 10 baby turnips
one orange (zest and juice)
half a thumb of butter
a spoonful of sugar
Get the little buggers (les petits bougres) ready by gently castrating them (off go their funky wisps!), and getting the cores out (not in the original recipe but my turnips didn't look quite as nice as the ones Lili used!)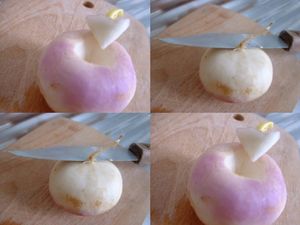 Don't feel bad for them, I'm sure they deserved it
Then I mercilessly diced them. And threw them in a damned pan (une saleté de casserole) with the butter, before dousing the whole thing with the juice of my freshly squeezed orange.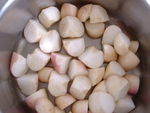 Yeah, I know, that's before the orange shower.


Steam it ten minutes or more (poke the bastards with a knife, they should hold their shape but nevertheless yield, you feel me - tu piges?)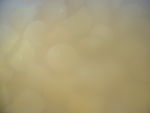 It's hard to take a picture with all the steam, you see.
After a while, the juices of the orange and the turnips combined with the butter will give you a yummy caramel. If you lick the spoon at that stage, you are likely to burn your tongue. I checked it for you. Health and safety first. Sprinkle a spoonful of sugar and turn up the heat to caramelise further. I added a little water to prevent excessive caramelisation which leads to excessive washing up. Keep it low key. N'en faites pas des tonnes.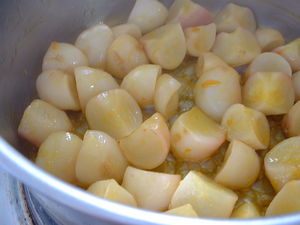 Toss the whole thing around in the pan to the sound of Diana Ross and the Supremes

I said upside down
You're turning me
You're giving love instinctively
Around and round you're turning me [...]
Yeah baby yeah, give them turnips a little lurv. And when ready, throw them on whatever you're eating at the moment. Semolina in my case because I was hungry and that's a speedy option when one is in a rush (quand on est à la bourre).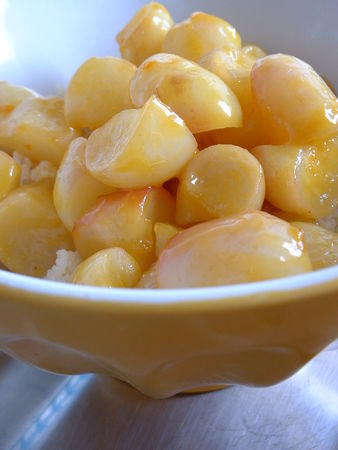 Minimal washing up time here as the pan didn't go up in flames and the peelings fit in the paper bag the veggies came in. What more to ask! Que demande le peuple!