Brace yourself, Barilla, here comes Mamma Chiara.
No fussing about, straight to the point:
200g flour
100g fine semolina
3 eggs
1/2 tsp salt
a glug of olive oil (what, not precise? Do not get on the wrong side of Mamma Chiara.)
a tub of Elbow Grease (no, it's not like self-tanning lotion. Rather the contrary)
Mix all the ingredients and knead for 10 minutes. Wrap in cling film and leave that sexy thing to rest for about 30 minutes. It's called beauty sleep.
Cut out the ball of dough in four
and roll each ball in a long rectangle,
dusting with flour as you go. It
should be so thin you can see
your hairy mafioso mitts (vos
paluches poilues de mafieux)
through the dough when you
hold it.
Then fold lengthwise twice, and cut

in strips of desired width. Use a sharp
knife, just so that people take you
seriously. I made papardelle, as they
are my favourites. But enough about
me, back to the pasta.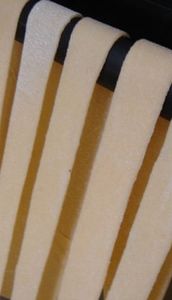 Unfold the pasta strips and find a good spot
to hang them so that they dry up without
sticking to each other. Pasta strips, like
Italian people, tend to be all over each other.
They can't fight it (y a rien à y faire) it's in
their genes. A drying rack is good, so is your
oven's door handle for that matter.
Act 2 out soon. You know you can't wait.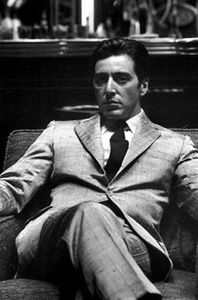 He knows he can't.
Shit, I hope he isn't a nervous shooter.