06-16-2008
What? You thought we'd have that chocolate mousse on its own? You must be out of your mind (vous êtes cinglé, ma parole). And those financiers (like pretty much all financiers) are 1) fast to whip up, and 2) you're left with a couple of yolks you can chuck in the cream sauce of the aforementioned chicken for added unction (des jaunes en rab' qu'on peut balancer dans la sauce à la crème pour plus d'onctuosité).
So really, no reason to hold back. What, your bikini is trying to strangle you with its little bra strap? Easy, subdue it with your tenderizer (aplatissez-le avec votre marteau à viande), and this summer, don a full rubber drysuit instead. Plus you won't get all the fuss of tanning marks. No problems, only solutions. Any other complaints will be dealt with by the after sales service of this blog, namely the comment section.
Pistachio paste, I want to be with you All Day and All of the Night

Hulking it up
The recipe is perfectly adjustable to the number of leftover egg whites getting bored stiff in your fridge (les blancs qui s'emmerdent dans votre frigo). And if you have pistachio powder, why not "cut" the almond powder (and you shouldn't get bad trips unless you get your pistachio powder from that weird hairy guy who stands at your street corner at night). Thinking about it, my pistachios do come from Iran. Hm. Moving on.
85g almond powder
130g icing sugar
55g flour
100g butter, melted and browned to the infamous "noisette" stage.
4 egg whites
Raspberries
2 tsp pistachio paste, to taste (the sheen in the pot is incredible, it looks like the Amoco Cadiz has grounded in your kitchen)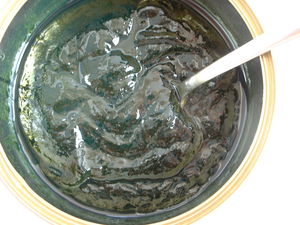 If you are crashing at your parents', you might as well use their electric mixer. You're such a disgusting parasite. Yes, but I personally justify it to my conscience - they get to eat it afterwards. That's one of the downsides to being an evil genius, you can morally get away with almost anything. Even financier baking and geeze, that's pretty bad (la vache, ça craint pas mal).
Stick the flour,almond/pistachio powder and icing sugar in the bowl of the mixer with a pinch of salt, add the egg whites and set the mixer on low speed. When combined, add the noisette butter and the pistachio paste and and mix well, that is until you don't have a mini oil spill (une mini marée noire - non, verte) in the bowl. Leave it there to rest for about an hour (some suggest it helps with the rising, but I couldn't see a difference).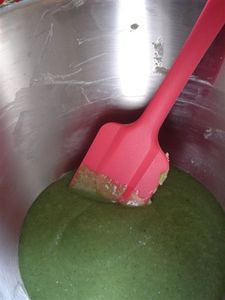 It's so green it almost looks healthy.
If you are the lucky owner of mini silicon imprints like my mom is, being stylish comes effortlessly. A raspberry will elegantly complement the spoonful of financier batter.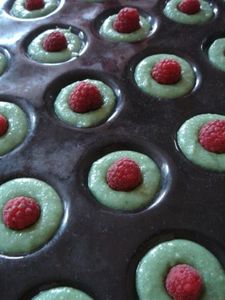 Alligator tits, as I like to call them - what, who said "stylish"?
I baked them for 13 minutes at 170°C, but they were tiny. Take them out of the oven, and let them cool on a rack. They will be nice and crispy on the outside and luxuriously mellow in the inside if eaten in the next hour, afterwards, provided you live in Paris they will suck up the ambient damp and become soft all over. Fear not, though, the taste is just the same.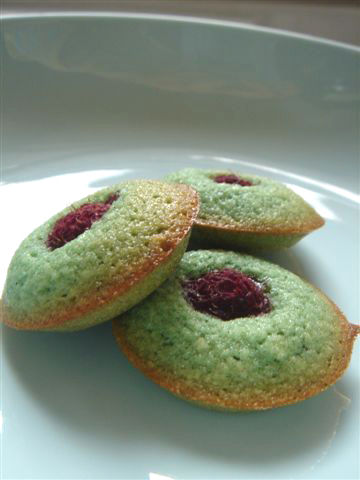 Oh, and before I leave you, I needed to share this: somebody landed on my blog recently by googling "caca culotte". Is it disturbing, or am I finally paying for being colloquial?