09-02-2008
It's not the proper kind, not the real deal, the one that you let boil in huge copper pans and then leave in your basements for a couple of months for it to develop it perfect flavour. You make it, you scoff it (tu le fais, tu le bâfres). Fast, preferably, because it doesn't keep well due to the low amount of sugar used. Shame ain't it (ça craint, non).
No pictures of the finished produce yet, it's in the making.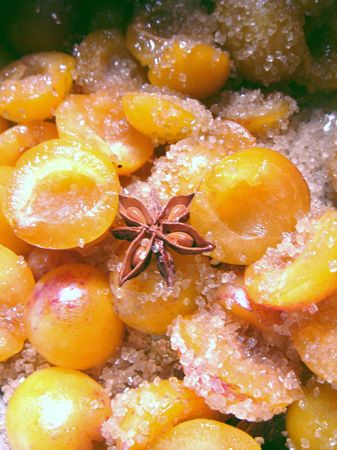 Day one : pit 600g of washed mirabelles and add 275g of coarse brown cane sugar. Chuck in casually (Balancez-y avec désinvolture) a couple of star anises and a vanilla pod (halved and scraped - standard procedure) and cook until all the sugar has dissolved. Ready in the flashiest of flashes. Pop a circle of baking parchment on the surface and forget it until the morrow.
Day two : Fish the star anise and the vanilla pod and bring to a boil for about 5 minutes or so. Mix half a tsp of agar with a tsp of sugar and sprinkle over the surface of the bubbly mess. Stir it in and boil for an additional minute. Pour into 2 jars, adjust the lids and turn over until it's cooled. Careful, the sodding things are frickin' hot (ces saloperies sont archibrûlantes). Keep in the fridge.
SPOILER!!!! Next entry is very likely to be boudin blanc aux pruneaux, i.e. white pudding/boudin with prunes. How bloody fascinating. I've never had a go at twisting casings. Can't wait.