09-14-2008
There has been what I can only describe as a considerable choux madness on the food blogging scene lately, all due to the Daring Bakers' enthusiasm in attempting, successfully on the whole, éclairs au chocolat. I do not consider myself (yet) daring enough, but I'll grow out of it some day (ça va me passer).
That was inspiration enough. So off we go, choux pastry+ vanilla ice cream + hot chocolate sauce, and....
ABRACADABRA!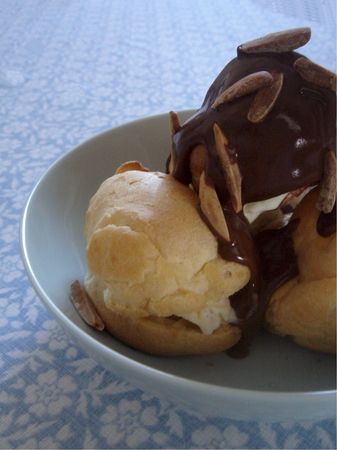 Profiteroles! Yey!
Need I repeat the choux pastry recipe? I think I'll just be really lazy, for a change, and send you over to Foodbeam, Fanny explains it marvellously.
Wait until the choux are cold, and just before serving, scoop the ice cream into the choux, melt some decent chocolate with some cream (wow, precise proportions, I know!) and add a splash of milk to loosen it up a tad if it's too thick. You may flavour it with a little coffee extract or a couple of spoonfuls of strong espresso. If you're nuts, scatter a few toasted almonds on top.
It's quite easy to pig out on that stuff (on en mangerait à s'en faire péter la sous-ventrière). I know, I'm ever so stylish.