It so happens that my restaurant buddy Edgar and I went to this funky Lebanese place somewhere in the middle of Manhattan (I was starving so much after a long concert that the precise location remains a little fuzzy – besides it was night time and all avenues look the same to me).

With the panache imparted to him by his Tripolitan origins, Edgar ordered a number of dishes, all equally delicious (O the octopus, and O the falafels!) which were hastily gobbled down. As I laid back after an amazing dessert, feeling a little full perhaps, one dish really stood out, which I wouldn't necessarily have expected in a Lebanese restaurant.
Sprouts are not bitter, they're lovely. Besides, they're in season and they are my new best friends.
It was a platter of roasted, almost caramelised Brussel sprouts, with halved fresh grapes, toasted walnuts, drizzled with a fig purée dressing, and a white sauce which must have been part yoghurt, part tahini. The combination was divine. In case your only memory of Brussel sprouts is that of your school dinners, please reconsider this noble vegetable through this (feeble) attempt to recreate this magical dish.
Henri Jean Antoine RODET (Botanique agricole et médicale, ou, Etude des plantes qui intéressent principalement les médecins, les vétérinaires et les agriculteurs, Paris [1857] (1872), 53) goes even as far as declaring : "These buds, or small apples, constituted of young leaves of a very tender and delicate nature, make for a highly regarded delicacy."
Would you believe me if I told you the picture doesn't do justice to the dish? Shitty lighting is what is it.
Trim and halve longitudinally 20 Brussel sprouts, put them in a bowl and toss them with some olive oil and a good pinch of salt. Place them cut-side down on a baking tray (I used a silpat), and roast them in a preheated oven (400°F) for about 25 minutes, or until the top leaves have become nicely browned and crisped up into a nice crust.
Toast in a frying pan two handfuls of walnuts until fragrant, set aside.
In a bowl, prepare the dressing by combining two teaspoons of pomegranate molasses (that's where having a Lebanese buddy comes in handy – you get the stuff straight from Beirut, woohoo) with two teaspoons of olive oil and a little salt. I guess a splash of lemon juice would have been nice, but I didn't have any, so I added a few drops of water to loosen the dressing a bit.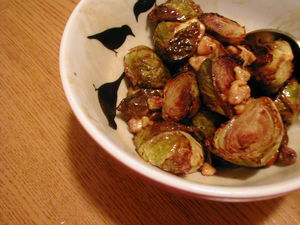 In a large bowl, combine the crispy sprouts, the toasted walnuts and the dressing, and breath in, you're about to have a Brussel sprout sensation. It's that good.
Of course, if you have grapes, yogurt and tahini at hand, feel free to customise the recipe, I have the feeling it can't go wrong anyway.
You will also love to know this bit of gossip from Alfred SMEE (Mon jardin, Paris (1876), 103-104) : "The Brussel sprout is doubtless the most useful [cabbage] in a private garden. […] In Scotland, Brussel sprouts are usually sown in August, in order to be harvested the next year."
Even Scots plan their Brussel sprouts harvest far ahead. Surely that's an indication of how good they are.