Lazy-Sundayite is a condition that affects me every week, mostly on Sundays but I will have the occasional Demotivated-Mondayite once in a while, which equally sucks. Today energy levels are kind of ground-hugging (au ras des pâquerettes), in imitation of the skyline in NY, so I will swiftly move on to the recipe, a Martha Stewart classic also to be found on this great blog.
A sample of what my voice sounds like today. But not my guitar-playing, unfortunately. Anyone in Astoria offering lessons against cookies?

I have observed that those cookies make the most obnoxious people go all slushy and positive-thinking, Mary Poppins style. Give them a go and chances are you are going to cook a second batch right away.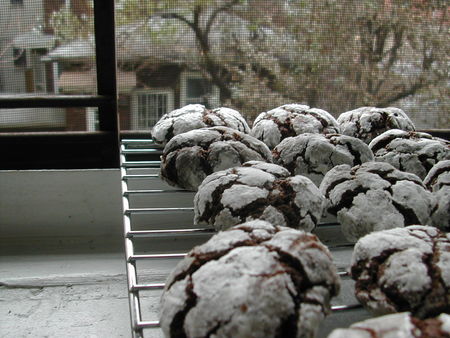 My fancy schmancy cooling technique, balancing expertly the cooling rack onto the window ledge (no accidents so far).
8 ounces bittersweet chocolate, melted (half unsweetened - half bittersweet for me)
1 3/4 cups all-purpose flour
1/2 cup Dutch cocoa powder
2 teaspoons baking powder
1/4 teaspoon salt
4 ounces (1 stick) butter, room temperature
1 1/3 cups dark brown sugar, firmly packed (granulated was all I had, it worked out fine)
2 large eggs
1 teaspoon pure vanilla extract (I omitted it)
1/3 cup milk
1 cup powdered sugar for rolling
1 cup granulated sugar for rolling
Melt the chocolate, and let it cool slightly.
Sift together flour, cocoa, baking powder, and salt. Using a mixer, beat the butter and sugar together until they are well combined. Add eggs and vanilla and beat until fluffy. Add the melted chocolate and mix to combine well. With mixer on low speed, or with a spoon, alternate adding dry ingredients and milk until just combined.
The dough should be pretty thick and heavy now. Leave it in the bowl, cover it with plastic wrap and pop it into the refrigerator for an overnight stay. This will turn the dough into playdough. We like that.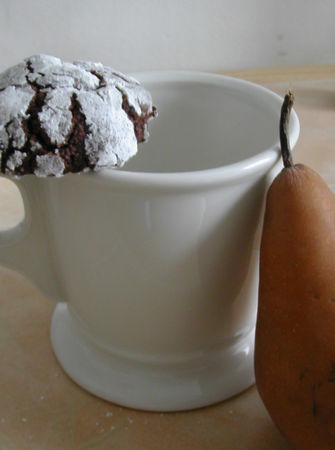 Will you choose the pear over the cookie? Don't mess it up sonny (déconne pas, petit).

Preheat the oven to 350°F. Remove the dough when it is properly chilled and using either a tablespoon cookie scoop or just a normal tablespoon shovel up heaping tablespoons of dough and then roll them in your hands to create a ball (about ¾ the size of a ping pong ball). The cooler the better, it will not stick to your handypandies (ça collera pas à tes menottes). Drop it into a bowl of granulated sugar and swirl it around to cover it then transfer it to a bowl of powdered sugar and roll it around again. Place it on a parchment or a silpat lined baking sheet, spacing each cookie about 1.5 inches apart. Bake for about 11-15 minutes. Remove from the oven and let them rest for about 5 minutes, then transfer them to a wire rack to cool.
If you bake it in several batches, refrigerate the dough in between batches to make it easier to shape it into balls.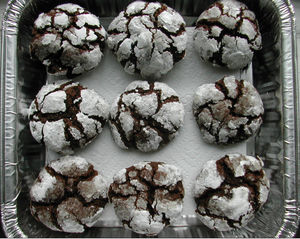 The little suckers, ready to go spread world peace.