And A Giveway!!
"How much junk food does he eat?" Dr. Olman is asking.
"Oh," Janice says, with enthusiasm, "he's a real addict." His wife is, it occurs to Harry, a channel that can't be switched. […]
". . . tons of fat through his system," Dr. Olman is saying, "rivers of it, some of it has to stick. Marbled meats, pork sausage, liverwurst, baloney, hot dogs, peanut butter, salted nuts ...""He loves all that stuff, he's a terrible nibbler," Janice chimes in, anxious to please, courting, betraying her husband. "He loves nuts.""Worst thing for him, absolutely the worst," Dr. Olman responds, his voice speeding up, losing its drawl, `full of fat, not to mention sodium, and cashews, macadamia nuts, they're the worst, macadamia nuts, but it's all bad, bad." In his intensity he has begun to crouch above her, as if over a slippery putt. "Anything made with hydrogenated vegetable shortenings, coconut oil, palm oil, butter, lard, egg yolk, whole milk, ice cream, cream cheese, cottage cheese, any organ meats, all these frozen TV dinners, commercial baked goods, almost anything you buy in a package, in a waxpaper bag, any of it, ma'am, is poison, bloody poison. I'll give you a list you can take home."
John Updike, Rabbit at Rest, New York: Knopf (1990)
Hot dogs? "Bloody poison"? Hm - probably, if you get them from a street vendor on Columbus Circle.
Now what about you use gorgeous Frankfurters from La Cense, made with grass-fed beef and without weird additives, and tuck them in a home-baked hot dog bun?
Pictures curtesy of hot-dog bribed Marc
I borrowed the recipe for the buns from the King Arthur website and I am pretty sure it was a success considering the silence in which the four of us religiously devoured our 'dogs. As Marc gentlemanly pointed out, I was a "hot-dog virgin". Not anymore you'll be pleased to read. We garnished the buns with a stupendous green mango relish prepared by Marc, a few of the now classic ramps pickled by Stéphane, and sauerkraut fermented by Whole Foods (yeah, get off my back [lâchez moi les baskets]).
Ah you should have seen us on the rooftop of my Williamsburg building, basking in the sun and preparing coals in a miniature barbecue to grill our Frankfurters before we embarked on an entirely different adventure involving hickory smoke, firemen and homemade Knackwuerste - traditional sausages from Strasbourg and a ubiquitous component of Choucroute Garnie [a larger, hands-on, from-scratch, down and dirty kind of project- shhh (chut)] . But more about the rooftop-smoking next time, or on one of my fellow bloggers' pages (et hop, stylishly flinging the baby in someone else's arms). And for a chance to win a $25 gift card, just pop me a comment (US residents only) and sign up for the grass-fed party before lunch, April 29 (Claire time, aka NYC time on the early side - 12:00). I will then randomly pick a winner (Wiener?).

I'll copy the recipe for the buns (it can be halved), just in case you have separation anxiety issues with this blog:
2 tablespoons granulated sugar
2 packets or 2 scant tablespoons active dry yeast
1/2 cup warm water (105°F to 115°F)
2 cups warm milk (105°F to 115°F)
2 tablespoons vegetable oil
2 teaspoons salt
6 to 7 1/2 cups King Arthur Unbleached All-Purpose Flour*
egg wash: 1 egg beaten with 1 tablespoon cold water
This particular dough should be quite slack, i.e., very relaxed in order to make soft and tender buns. So you want to add only enough more flour, past the 6-cup point, to make the dough just kneadable; sprinkling only enough more to keep it from sticking to you or the board. In a large bowl, dissolve the sugar and then the yeast in the warm water. Add the milk, oil, salt and 3 cups of flour to the yeast mixture. Beat vigorously for 2 minutes. Gradually add flour, 1/4 cup at a time, until the dough begins to pull away from the sides of the bowl. Turn the dough out onto a floured work surface. Knead until you have a smooth, elastic dough. Because this dough is so slack, you may find that a bowl scraper or bench knife can be helpful in scooping up the dough and folding it over on itself. Put the dough into an oiled bowl. Turn once to coat the entire ball of dough with oil. Cover with a tightly-woven dampened towel and let rise until doubled, about one hour.
Turn the dough out onto a lightly oiled work surface. Divide into 18 equal pieces. This is done most easily by dividing the dough first into thirds, then those thirds into halves, then the halves into thirds. For hot-dog buns, roll the balls into cylinders, 4 1/2-inches in length. Flatten the cylinders slightly; dough rises more in the center so this will give a gently rounded top versus a high top. For soft-sided buns, place them on a well-seasoned baking sheet a half inch apart so they'll grow together when they rise. For crisper buns, place them three inches apart. Cover with a towel and let rise until almost doubled, about 45 minutes.Fifteen minutes before you want to bake your buns, preheat your oven to 400°F. Just before baking, lightly brush the tops of the buns with the egg wash and sprinkle with whatever seeds strike your fancy.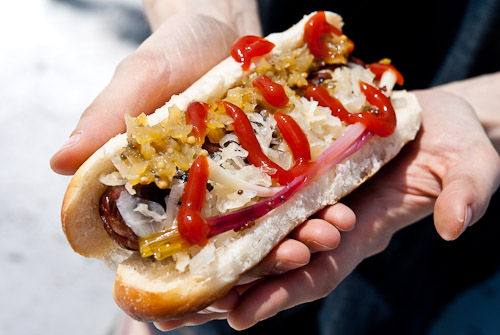 Bake for 20 minutes or until the internal temperature of the bread reaches 190°F. (A dough thermometer takes the guesswork out of this.) When the buns are done, remove them from the baking sheet to cool on a wire rack. This will prevent the crust from becoming soggy.
Gee (ça alors), I've never posted such a long and detailed recipe for bread! Believe me, if you have the least idea about what you're doing it shouldn't take you more than 5 minutes putting things together, and 5 minutes of kneading - then you pretty much leave it to the yeast to do its thing.
OK, now I want another hotdog, so move along people, chopchop! (tout le monde dégage, hophophop!)