Marc, Stéphane, Liz and myself made a poor attempt at going to the bacon take-down in Williamsburg on Sunday afternoon. It turned out, an hour before it even started, all the tickets were sold. Well we could have been cheesed off (ça aurait pu nous foutre en rogne) for being robbed of our bacon fest, instead we set off to have a nice beer and proceeded to sample oysters with dark miso, fresh tofu, black cod and shark fins in a funky maze of a Japanese restaurant nearby.
It does feel like I over-ate that day (*burp*) - a little earlier, I made a rather large amount of coconut rice pudding after Jean-Georges Vongerichten's recipe (Asian Flavors of Jean-Georges
) and while shooting the result for the purpose of this blog, I helped myself to rather large quantities of it. Like Dutch courage, except it was Thai. Coconut rice pudding is amazingly addictive. If you top it with ripe, juicy, jasmine-flavoured Costarican mangoes and crunchy toasted black sesame seeds, you're right off to seventh heaven (c'est direct au septième ciel). Of course Jean-Georges being Alsacian makes me feel completely comfortable with this raving exoticism which is, as we know, so unlike me.
Soak a cup of glutinous Thai rice (I used Arborio, it was fine) overnight, or at least for a few hours. Then steam it for 8 minutes (for Thai rice) - Arborio took 15 minutes. My set-up was pretty ludicrous, I stacked a rescued bamboo wonton-steaming basket on top of my cast iron pot, and lidded it with a pyrex dish. I'm sure you can do better than that.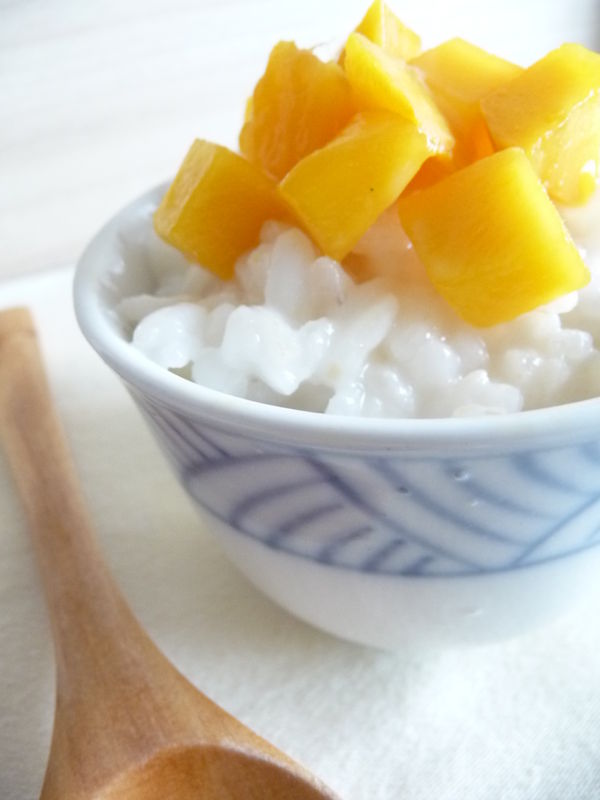 While the rice is steaming, make a simple syrup by dissolving (over low heat) 1/4c sugar and 1/4c water. Once the rice is cooked, transfer it to a bowl, pour the syrup on top and stir. Let it sit 5 minutes, sprinkle it with salt. In a separate bowl, combine a 14oz can of coconut milk (mine was the Trader Joe's "light" version for some obscure reason, but it did the trick) with a Tbsp of sugar - I used superfine sugar so it dissolved better. Give it a stir and add it, a 1/4c at a time to the rice mixture. I confess that I microwaved the rice for a minute a couple of times to help it soak up the milk, once in a while. But quite frankly, it's merely because I was being a glutton and I couldn't let it sit for hours. In the end, the rice absorbed the entire can of coconut milk. The more you wait, the more of a melt-in-your-mouth texture the rice develops. I made it at 1:00pm, and it was succulent by 5:30pm, to give you an idea. Perfectly edible by 1:30pm by all means (re-*burp*). When ready to plate, top with freshly diced mango, sprinkle with toasted sesame seeds (I like black sesame seeds because I'm a sucker for chromatic contrasts). Dig in. Hmmmm and Ahhh.
UPDATE!! Enjoy your favorite Sweet Sticky Rice in no time thanks to the clever contraption called RICE COOKER! Just put 1c of rice and 1,5c of water in the inner bowl, and let it cook until it switches off to the "keep warm" setting. Transfer to a bowl, dump in the simple syrup (1/4c sugar melted in 1/4c water), the entire can of coconut milk, all at once. Stir, let it sit 15 minutes then add salt to taste! Serve with cold diced mango and toasted sesame seeds! Nomnomnomnomnom!