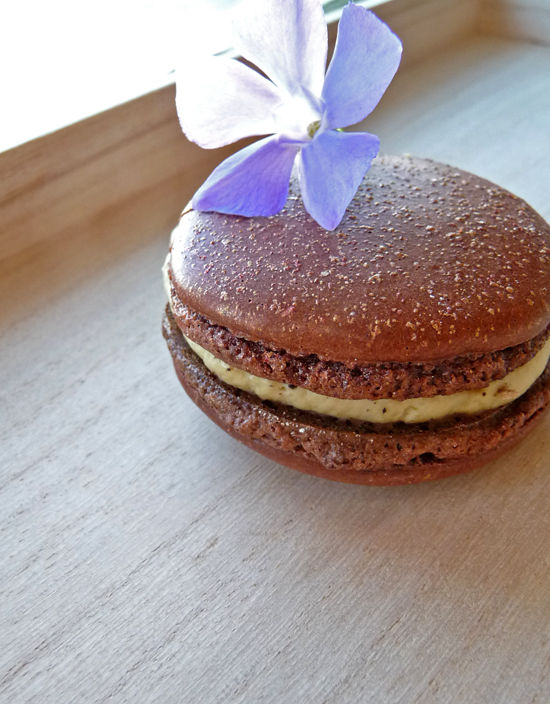 Last week I was lucky enough to receive a little ziploc through the mail, filled with dried morels kindly offered by Justin from Marx Foods, and the mission to come up with a recipe. I can't say I looked very far. Pierre Hermé's new book on Macarons (a jewel of a book that will make you an emotional wreck) and a foraging expedition upstate New York during which a few oblivious foodies gaily sauntered among dried leaves, made it clear that it would have to be autumnal looking macarons.To hell with spring and its frightful pastel bunnies (Au diable le printemps et ses abominables petits lapins pastel).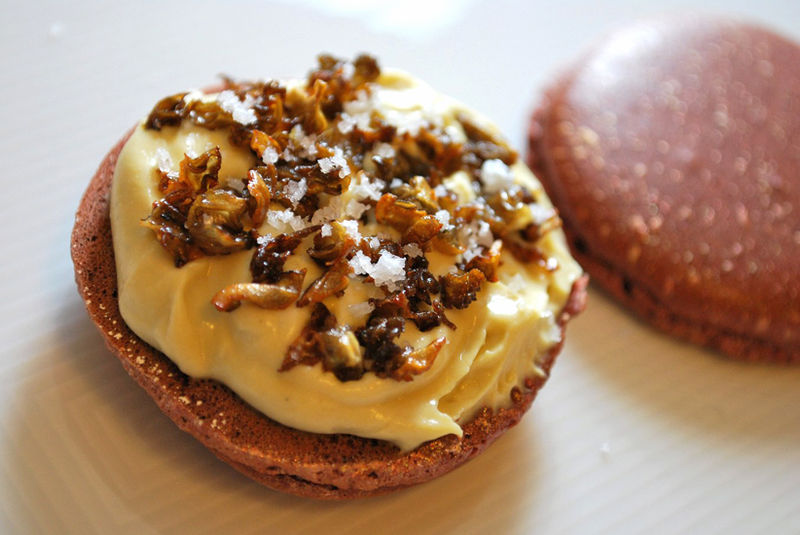 Tut tut tut (hep hep hep), don't leave just quite yet. Macarons don't have to be your cooking nemesis. A little equipment is needed, true, but pretty much the same kind than for making silly old cupcakes, which doesn't seem to be a problem for 90% of the blogs out there who post cupcake recipes every week or so.
So.
In a large bowl, put 150g almond powder and 150g confectioner's sugar, sifted thoroughly, along with about 15 of your dried morels, powdered (hello coffee grinder!). Pour 55g of pre-packaged egg whites mixed with 1/2tsp brown food colouring (if you so wish) on top, set aside.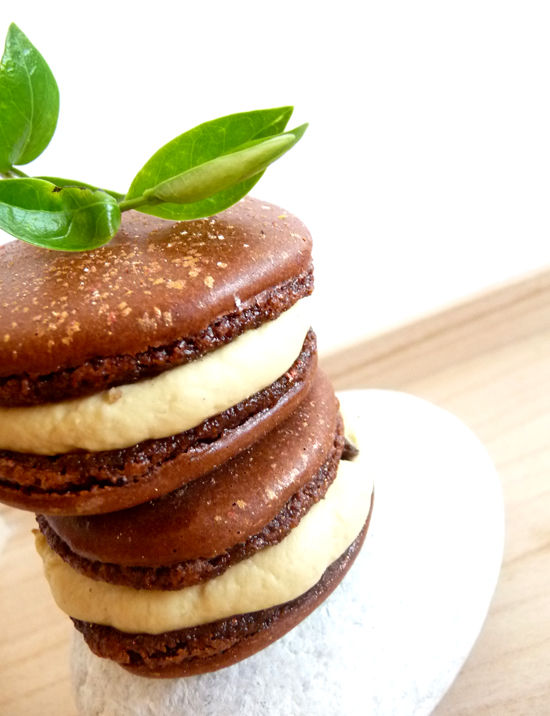 In a pan, boil water and sugar until it reaches 115°C. At that point, start whisking more eggwhites () in your stand-up mixer. When the syrup reaches 118°C, it's time for you to pour them on the whites as they are getting their little butt kicked by your Kitchenaid. Keep whisking until the temperature of the meringue drops to 50°C. Pour it all in the bowl containing the almond/sugar mix, and fold in large upward strokes until well combined. The batter should flow from the spatula, forming a ribbon. You're not aiming at preserving the air bubbles in the meringue here, so go for it.
Transfer to a piping bag with a large nozzle, and pipe little blobs on your silpat (they will spread on their own). Let it sit to dry on the countertop for at least 30 minutes before cooking them at 180°C for 12 minutes.
Make the ganache. Dissolve 1/2tsp powdered gelatine in 10cl of warm chicken broth, purée 125g of foie gras in your food processor and add the purée to the pan with the broth while gently whisking until smooth. Add salt and pepper to taste - I thought pepper came through as a really important flavour to balance the sweetness of the shells. Don't skimp (pas d'économies de bouts de chandelles). Fold in 1/2c heavy cream, whipped, refrigerate. Yes, it's a little decadent, this recipe is, have you noticed? But you know what, if you go for it, just go all the way (faites pas les choses à moitié).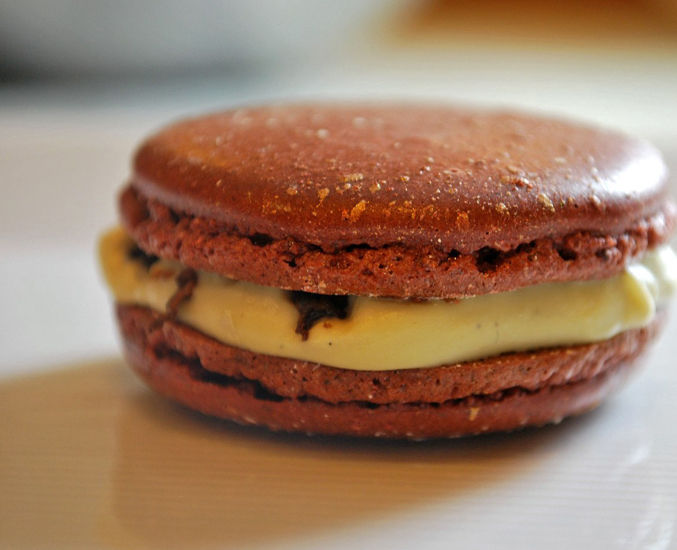 When you are ready to assemble your macarons, sauté the leftover (rehydrated and finely diced) morels with a knob of butter and a little salt. You can either fold them in the ganache or layer some on top of the ganache within the macaron. Garnish half the shells with ganache and sautéed morels, sprinkle with a touch of fleur de sel for some crunch, cover with the other half of the shells, and store in the fridge for at least 24h to let the morel flavour develop.
Now now (allons allons). It wasn't all that complicated was it? Justin darling, I hope you like the concept. It was certainly fun to develop.Now people, head over this way and vote for me. I know, I know.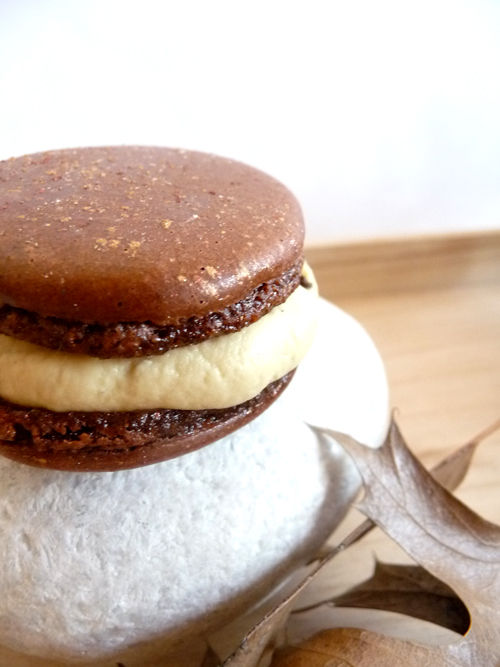 Wait, why can I hear an echo of my own typing? Is everyone gone? Really? Oh shoot. I knew French sophistication was a dead-end. Next time, morel CUPCAKES!