I must be terribly naïve, or a little dim-witted (un peu nunuche) perhaps. I still don't understand why people google (and several times a day too) the words "kiwi porn", which in turns brings them to my uncanny fruit post. I mean, it's pretty damn flattering that I seem to be the world reference on kiwi porn, but who on earth are these people? If you are reading this after googling "kiwi porn", please leave a comment and let us know what you were looking for exactly, then seek urgent help from Fructophiles Anonymous.Thank you.
In the meantime, another stunning recipe adapted from Pork and Sons
by Stéphane Reynaud.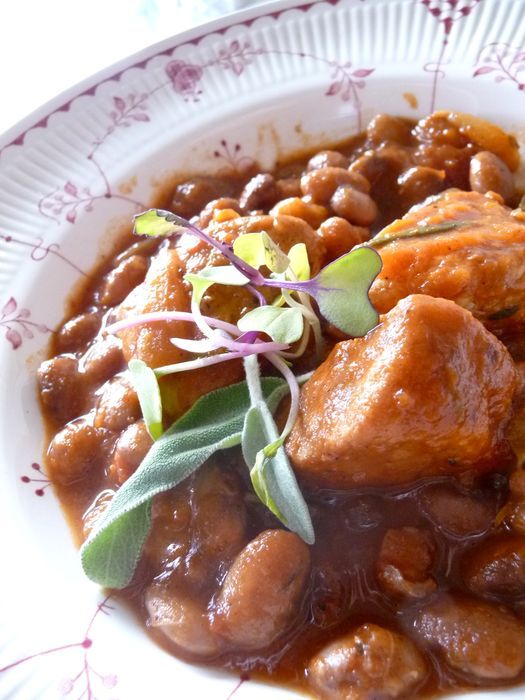 And don't tell me you're not salivating because I'm taking none of that crap (balivernes!).
Start a day ahead by soaking 2 3/4 c dried beans (pinto, brown, cranberry...) in a lot of water. When ready to cook, put the beans in a large pan with their soaking water (enough to cover the beans), a bouquet garni, bring to a boil and simmer for about an hour to an hour and a half. Keep an eye on it, you may need to add water as you go along.
In a large frying pan (the larger the better, so it doesn't steam up the meat), melt 2 1/2 tbsp duck fat (or lard), and add 2 1/4lb boneless pork loin cut in large cubes, 2 onions, sliced, and 3 crushed garlic cloves. Cook, stirring constantly until the pork is evenly browned. Stir in 1tbsp of flour, cook 2 minutes, then add 2 1/4c white wine and stir again.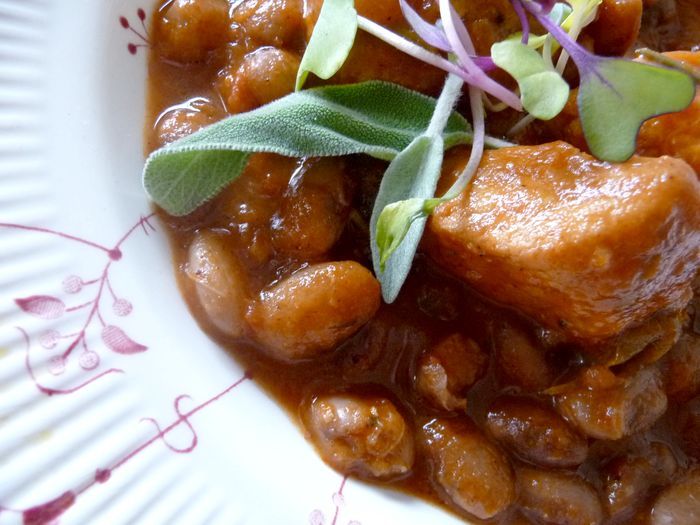 At that stage, I transferred eveybody to my cast iron pot. Add 30 sage leaves (adjust according to your love of sage), a big can of San Marzano tomatoes (which you can crush to a rough pulp with your hands before adding), and a tbsp or two of tomato paste. Simmer 30 minutes.
Drain the beans, reserving a little bit of the cooking liquid. Taste them. If they are not cooked, add them to the pork, and simmer for an extra 30 minutes. Mine were cooked, though, so I drained and reserved them, and I let the pork simmer for an extra 30 minutes on its own, and added the beans right at the end, until warmed through.
Don't forget to season with salt and pepper (adding salt to beans while they cook hardens them apparently). This dish can be made a day in advance, left on the stovetop/in the fridge overnight and reheated the next day.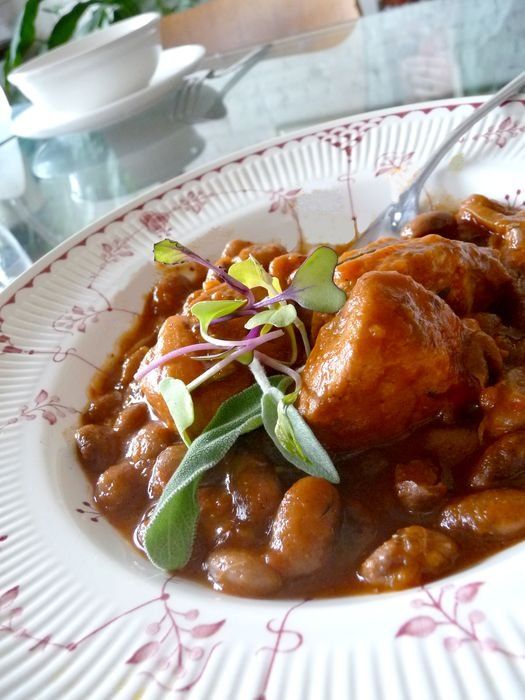 Serve with a nice fresh loaf of rye bread to soak up the sauce.
Also check up my Sweet Sticky Rice update!