The good news about having Marc over at your dinner party, taking pictures, is you can guarantee that all the food is going to look glam. The other good news is that every bite tastes as good as it looks. You'll have to take Colloquial Cook's word for it, dudes (va falloir me faire confiance sur ce coup, les gars).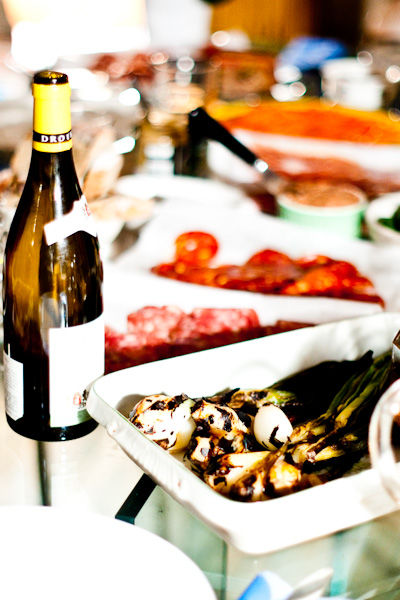 I am considering ways I could convince Marc (or blackmail him, what the heck - I occasionally give in to the odd spell of despotism) into coming back to France next year with me. I would sit him in the pantry, between the flour bucket and the spice rack, and he would make my food - subsequently, my blog - look consistently attractive. Actually, if I could get a three-for-one offer and get Stéphane to come and make latkes grilled in duck fat (and you should have seen him lovingly modeling those shredded potatoes like an old Jewish mama), and Stacey to badmouth neurotic New Jersey housewives while preparing duck rillettes tartines, I would be thrilled. They may have to squeeze in that pantry a little bit, but wouldn't it be intensely satisfying to have a dinner party in your closet and be able to pull it out any time you feel like a bit of a buzz? I think I have a concept® here.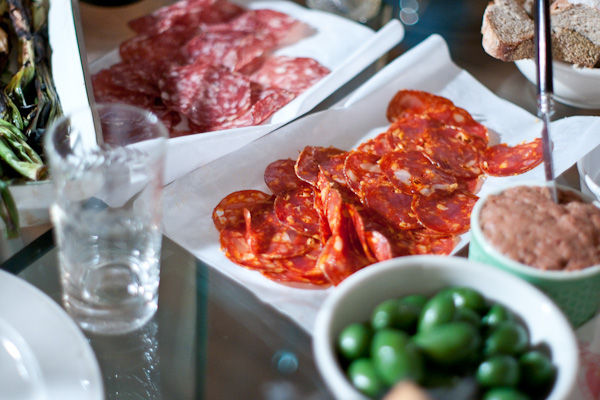 Well, we ate. Take a deep breath. Char-grilled new onions and romesco sauce (football helmet required when roomies step in to taste the leftovers), soppressata, chorizo and Pata Negra (ah - be still my heart), prune and liver terrine with a spicy apple chutney, fig-hazelnut-rosemary bread, Swedish cardamom and orange limpa, fennel-cured salmon, citrus gravlax. ...And breath out. Stretch, take a drink. Oh did I mention we had a *few* good (wooohoo) bottles including a Puligny-Montrachet which catapulted me right back to when I was a five year-old iddy biddy thing (quand j'étais toute petiote). Yes, French kids are taught about good things from an early age.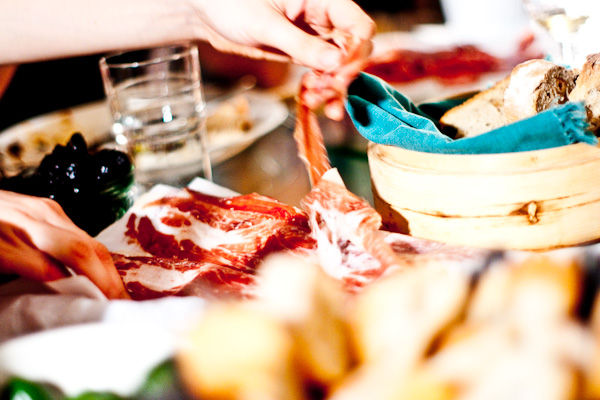 I was very pleased with the citrus-cured salmon, but because I mostly eyeballed it, I don't really have a recipe. I know I started with a fairly thin, skin-on, 1lb piece of salmon, which took only a day and a half to cure (good when you're short on time). I packed it in several layers of foil, cosily tucked in a curing blanket made with about a cup of coarse salt and half a cup of brown sugar, mixed with the zest of many a lemon and orange (blessed be microplane graters), and a few tbsp of toasted and crushed black peppercorns. Then I put it in the refridg', pressing it down with a plate weighed down with canned goods. After a few days, the conjugated efforts of salt and gravity had squeezed enough moisture out of the salmon. It was firm, it was transluscent but darker, it didn't feel raw nor squishy (cru et ramollo) when you prodded it (quand tu le tatouilles). It was mercilessly pulled out of its cure, rinsed well and patted dry with paper towels.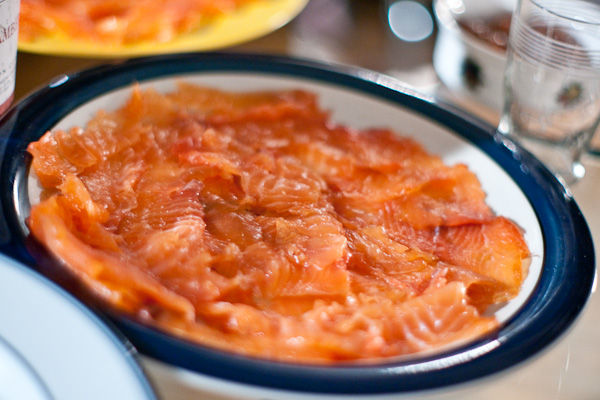 Thin slices work well. Get someone else to do it for you and your hands won't smell of salmon for the next week.Yes, French ladies have all kinds of tricks like that to twist men around their little finger (pour embobiner les hommes) into doing the dirty work for them. You learn that in lady-school, along with how to speak in a deep breathy voice. [A little aside here: a breathy voice is useful when you're ordering stuff from IKEA on the phone and they're reticent to deliver it. Make sure you talk to male staff, preferably from the warehouse. Fabulous.]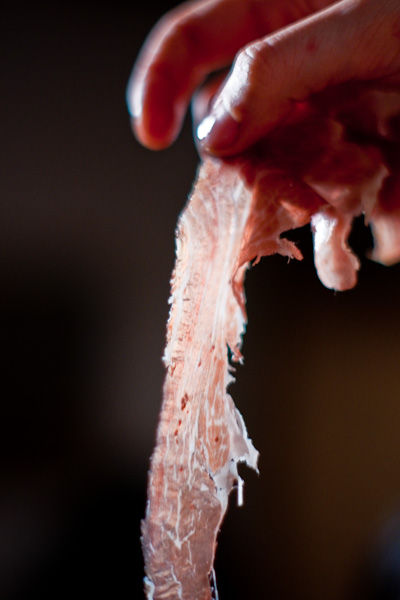 Jamon iberico will give you a breathy voice if your vocal folds need a little push-up. It's "sex on legs" as the vulgum pecus has it, except it's a black pig's legs. But who gives a damn (franchement,on s'en tape).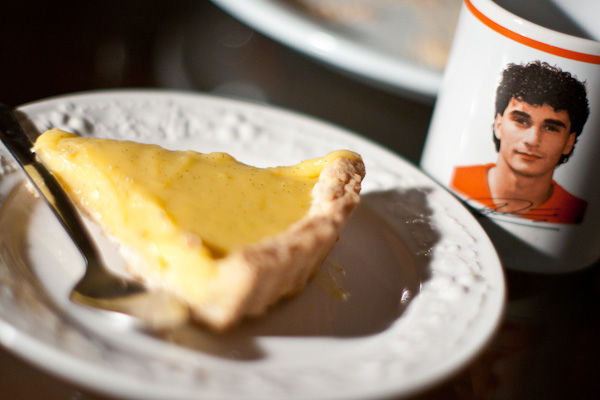 Oh, and don't go before you bite into the delightful (some might say oesophagus-perforating) sharpness of a lemon-passionfruit-ginger curd tarte.
We have this one cheesy coffee mug with an unidentified soccer player too. Any clue who that hunk may be? (mais qui est ce bellâtre?)