You try to read books in a New York research library. Frederick the Great's relationships with his Kapelle musicians have never been so thrilling. And clumps of old men with moustaches (what's with the moustache, I ask?) and an optional hunch keep chatting loudly right next to you. Inwardly, the teacher in you fulminates - but you can't, oh you can't shush them (pas moyen de leur rabattre le caquet). You know they get their daily buzz from coming to the library to clump and chat. You understand, it's nicer than the bingo club because you know what, it's SO QUIET IN HERE. And obviously, since they are going deaf, it's also nice to finally be able to turn off the "background noise" setting on their hearing aids. Saves them little batteries too.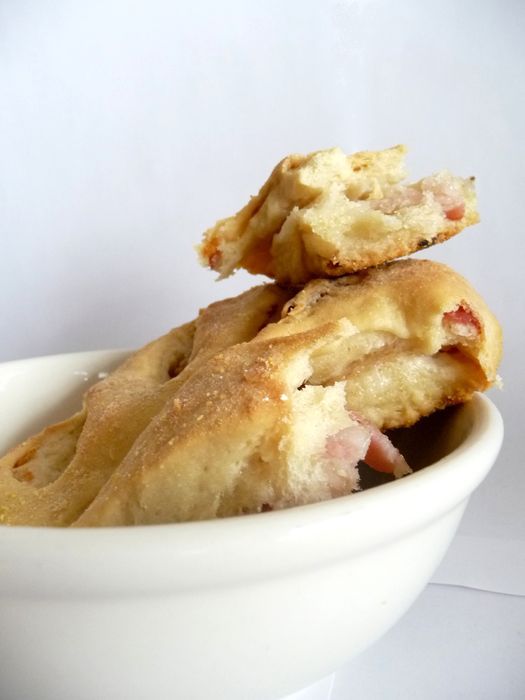 Well, why not take it on this bacon fougasse when you come back home. If kneading isn't sufficient to vent all this repressed (and yes, let's face it, ageist) frustration, save some of the fat from the bacon and stuff it in your ears next time you try to understand why Frederick the Great was called the Great when he really wasn't such a dazzling flutist.
The following recipe is adapted from Stéphane Reynaud's gorgeous book Pork and Sons
. In a small bowl, mix one active yeast packet with 3/4c warm water, let it happily bubble along for 5 minutes. In a large bowl, measure 3 1/2c of flour (bread flour is better, but all I had was AP), a tsp of fine salt, and a scant (hehe, watch me put a full) cup of olive oil. Add the happy bubbly yeast, stirring first with a spoon and then turning the whole thing down on the counter to knead the hell out of it. Add 5oz of smoked ham or Canadian bacon, cut in lardons, and knead carefully until you are satisfied with the distribution of the said lardons. Personally - not that anyone cares - I roll out the dough, sprinkle it with the fatty bits (les bouts de gras), then roll it up like a yule log and coil it up before I start kneading it. Half the distributing job's done. Let it double in size, then punch it down, shape it like a fougasse (note the picturesque leaf slashing pattern), let it rise again, and bake it for about 30 minutes at 475°F on a silpat or parchment paper.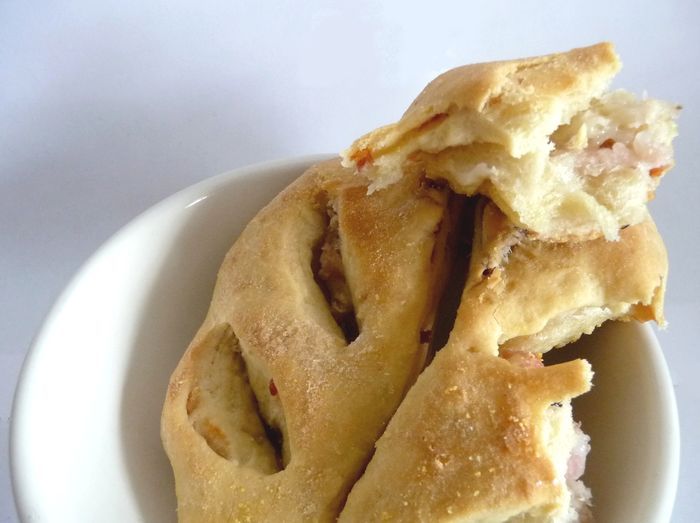 I'm also glad of three things (maybe more, but I can't count beyond three). One of them is that my good friend Mallory from The Salty Cod won my La Cense giveaway, and that grilling season is on its way. In between showers that is. Second, a completely bizarre coincidence: after Julie from Oeufs Mayo passed on a blog award to this little silly blog (cheerio!), we discovered we had actually worked on several projects in NYC together. Small world. Finally, thanks to Marc's adorable sister and boyfriend, I'm going to be able to stay a week in San Francisco starting on Monday! If you know of fun bloggers in the San Fran area, who'd be keen to schmooze and have a bite, spread the word.
And for the time being, toodle-oo my friends. And remember, like Paul McCartney said, you'll be older too.