You can find a hundred excuses to bake those cookies. In my case, I saw its name and realised I had indeed run out of flour. That sucks doesn't it (c'est râlant, hein). Next time I have flour, I'll go for gluten intolerance.
This one is for Peter from Kalofagas. You need to come back to NY soon, man.
It's a François Payard recipe that has featured multiple times on the blogs as well as in the NY magazine. I was intrigued by the unequal results people got from this recipe. I think what's key here is to keep a critical eye on the texture of the batter as you add in the egg whites. It should be thick and glossy, like a brownie batter. I obtained such a texture with only three egg whites, not four, but then again, different kitchens, different results.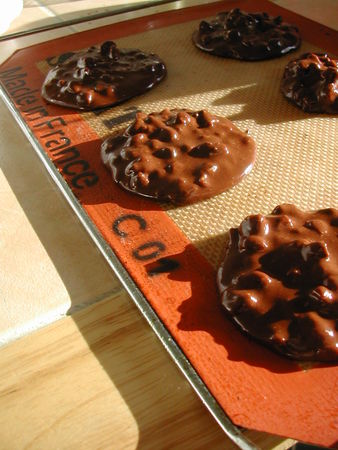 Also, if you plan on feeding your cookies to sweet-toothed colleagues, make smaller mounds than what Payard suggests and you get more than double the amount of cookies (and they are still a reasonable size, I promise). Besides, they are really sweet and I am not sure you could make it through an entire Payard-size cookie without having to prebook a dentist appointement.
So - the recipe, with my tiny modifications.
2 heaped cups of roughly chopped walnuts
3 cups of confectioners' sugar
1/2 cup + 3tbsp unsweetened cocoa powder
1/4 tsp salt
3 large egg whites
1 tbsp vanilla extract.
Toast the walnuts in your oven for 9 minutes at 350°F. You may sit in the oven with your walnuts if feeling chilly. If nibbling to kill time, make sure you still have enough to complete the recipe, since waluts really make those cookies outstanding.
Get out of the oven, put on your puffer jacket and mittens. Turn oven temp down to 320°F.
In a mixing bowl, whisk the cocoa powder, sugar, salt and toasted and cooled walnuts to combine. Whisk in the whites (go with three first, then see if you need to add a fourth), and the vanilla-r-extract (<= intrusive "r" sound, as my charming phonology teacher used to call it), until batter comes together as a moist (but not damp if you've followed) goo. No need to overbeat, matey (mélange pas trop fort, mon pote).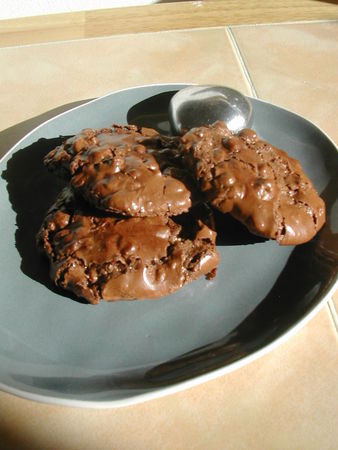 One of the objects on the plate isn't a cookie. It's a saltcellar I nicked from my flatmate.
Yet another meagre attempt at food styling.

Spoon over silpats or baking paper - 12 heaped mounds if you aim at Frankie Payard's jolly rotundity and a cavity-ridden dentition, 26 if you are planning to feed more revellers.
Bake for 14 minutes if going for the more-the-merrier option, 16 if making cookie monsters. The surface crackles and becomes glossy. I made three batches, and experimented on the peeling off of the cookies from the silpats - be warned, they are sticky, even on a silpat, which is a first for me.
*if greasing up the baking sheets, the cookies spread more, they lose that nice thickness and subsequent chewyness. But they come off easily. Shame, though (dommage, non).
*if not greasing up the baking surface, you can go with two options. After waiting for the cookies to have cooled down you can do it samurai-style with your offset spatula, scraping them off with vigour and precision. Or you can set your baking tray over a tray of smaller or equal size filled with steaming water, and leave it there for a couple of minutes. That worked well.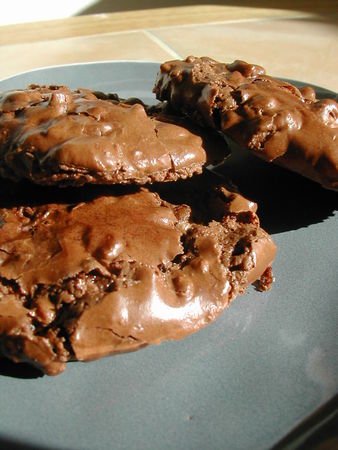 See the macaron-like feet of those cookies? Unexpected but always exhilarating.I get amused by inconsequential details, it's my inner child speaking.
Note that kept in a metal box, they keep for three days if adequately hidden from workmates, and I even find that their texture improves over time. They remain nice and chewy. Thanks for sharing Frankie.
Finishing on thanks and autocongratulation, I am so delighted I got to meet a bunch of bloggers in NY last Thursday and over the week in general (Rachel, Stacey, Giff, Peter and Stéphane)! Good food makes good friends. That's my word of wisdom for tonight. Sleep tight, kiddos (au dodo les petits).