You want lard AND butter, you want ground forcemeat AND diced Berkshire ham, you want PORK PIE!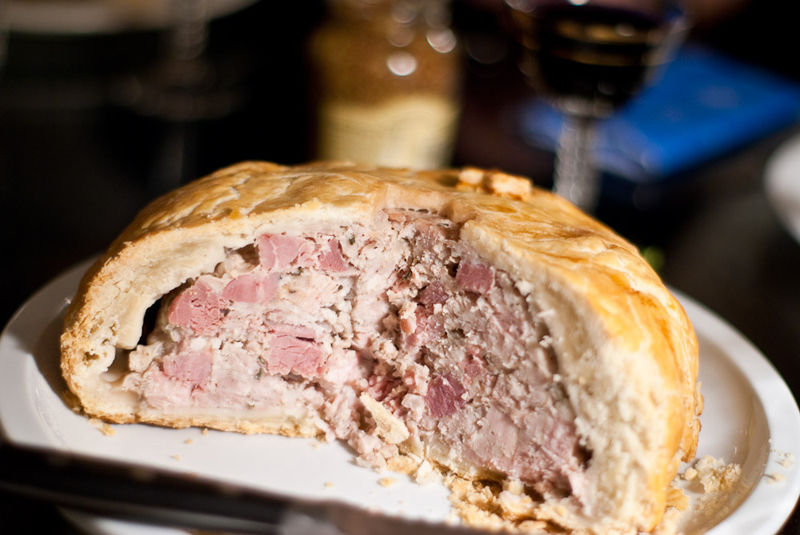 Today's pictures are all Marc's - he uncannily captured the spirit of that pork pie.
Man, that pie was so mean I was on the verge of proposing to myself.The pork pie adventure started in Astoria in a dodgy Mexican grocery store and finished in Williamsburg at a lovely dinner party with Giff, Stéphane, Marc and his wife Liz. They're all such good laughs (une belle bande de joyeux lurons).
It all kicked in when I started reading Michael Ruhlman's spectacular opus on pig, Charcuterie
. Disclaimer: do not buy this book if you have the slightest tendancy to monomania. It will drive you nuts (il te rendra zinzin). Fellow blogger Matt Wright will almost certainly concur. It's an obscenely delicious ode to pig and its fat, but also to the art of curing, smoking, sausage and pâté-making and what not. Falling faint yet? (tu te sens tourner de l'oeil?) The detail which caught my attention in choosing the English pork pie recipe was - I shall not blush nor deny - the concomitant use of lard and butter in the pastry. After depriving myself of cholesterol-laden food for so long, I needed a fix. As you will realise soon enough, I not only got a fix but it's likely I OD-ed.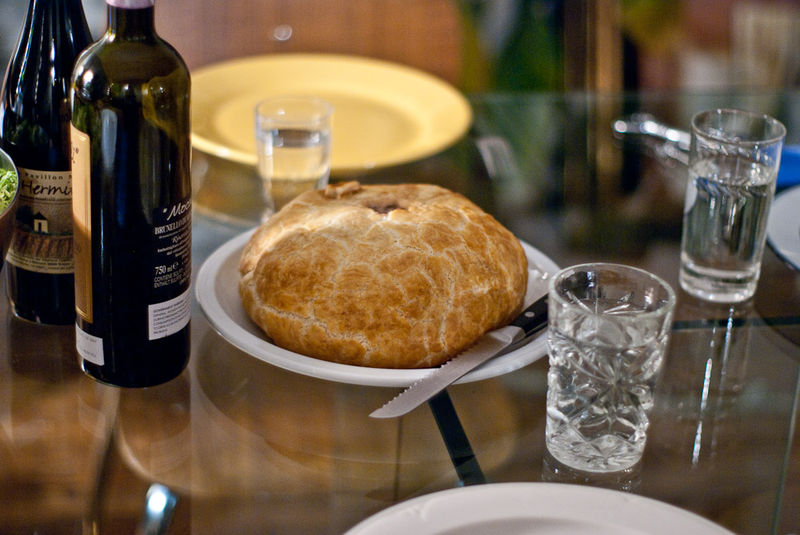 I wasn't going to give the recipe first because it didn't seem fair on Micheal and his hard work, but since the recipe's proportions for the dough were so completely off (I guess mistakes were made in downsizing the recipe for a domestic use), I take advantage of this nifty little blog of mine to give perplexed charcuterie amateurs some helpful hints. By all means, people, run buy the book, you won't regret it (well maybe you will when bikini time comes, if you're not into natural buoyancy aids - it's still far anyway).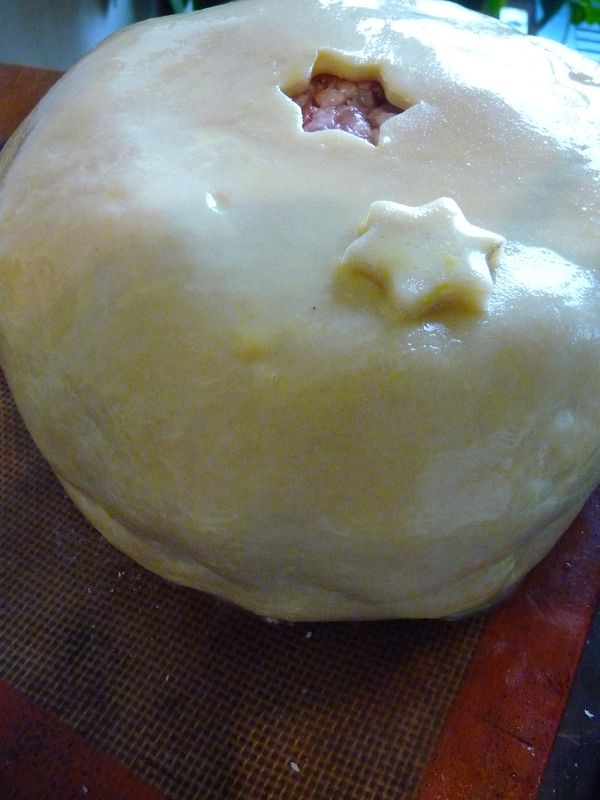 Ah - oops, obviously, not one of Marc's pictures.

For a nice lardy crust (yes, and smell your hands after you're done with the dough. Groovy ain't it?):
1 stick (4oz, 113g) cold unsalted butter
1 stick (idem) super cold lard
1 lb all purpose flour
1 egg, beaten (you may not need it all)
1 to 1,5 tsp salt (taste to check, you may need more)
Rub the diced fat in the flour with the tip of your fingers until you reach the "sandy" stage. Add the salt. Then pour enough egg in the flour to gather up the dough in a ball. Work quickly so that the fat doesn't melt (it's ok if some fat lumps remain) and the gluten doesn't become tough and rubbery. Wrap the dough in saran wrap, and refrigerate. This step can be done a day ahead if you're short on time. It also freezes well.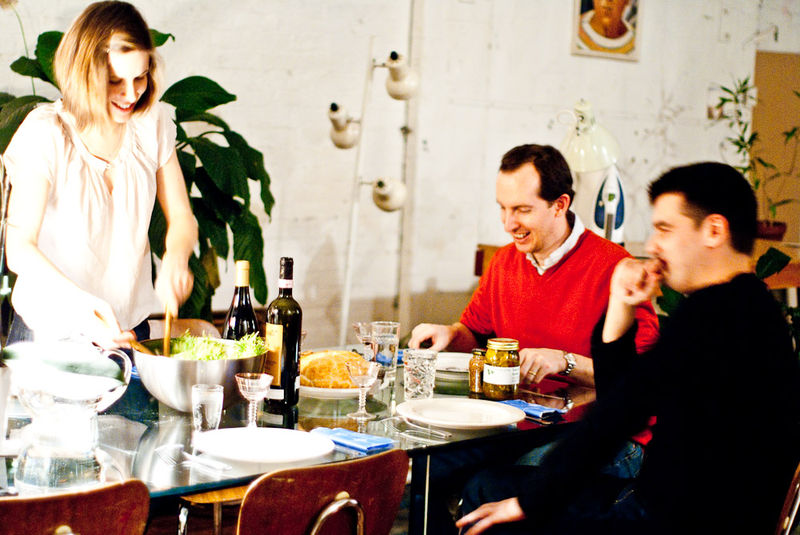 Oh no, Marc and Liz are not on the picture!
The tasty innards of the pie
The proportions for the meat filling are also pretty different from Michael's, since I intended to make a larger pie, and also one that looked like what we usually get in France (yes, I know that I'm straying from the English theme but people, I was feeling nostalgic. Bear with me.)
1 1/2 lb (about 700g) ground pork shoulder (grind your own if you have a grinder) (no, not your own shoulder)
1.4 lb (about 600g) thickly diced Berkshire ham (two great big fat slices)
1/2 c finely diced onion (I used a cool CSA red onion)
1 tsbp minced garlic (don't be shy!)
2,6 tsp table salt
1 heaped tsp of black pepper corns, which you bash to a powder in your mortar
1 tsp of finely chopped fresh thyme leaves, packed (more if you are a thyme lover)
1/2 c cold chicken stock
On low heat, cook the onion and garlic in a tbsp of butter until soft and transparent but not coloured. Let it cool, add the thyme, and refrigerate until you use it. Again, that can be done ahead of time.
In a large bowl, combine the cold ground shoulder with the salt, ground pepper and onion mixture, add the stock and mix until combined, then fold in the diced ham until it's all harmoniously distributed (harmony and pork pie are not antinomic, folks, quite the contrary).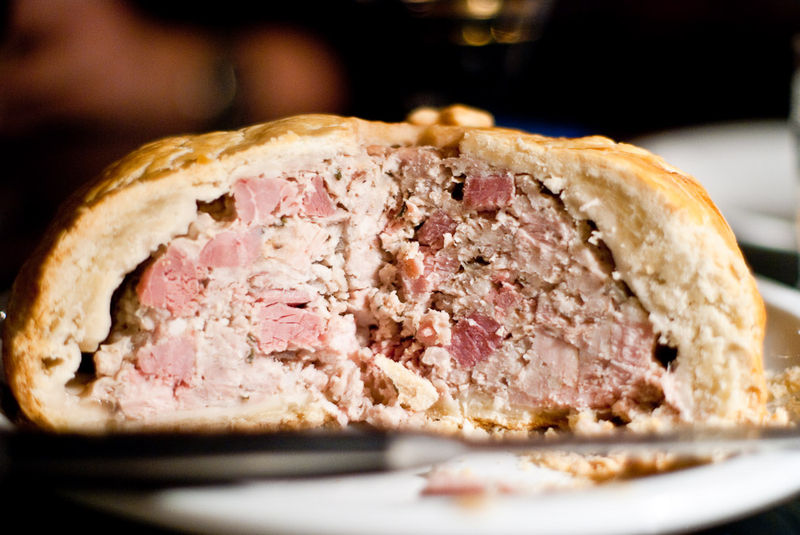 Roll out two thirds of the dough in a disk (diameter about 30cm), put in on a silpat or parchment paper, stack the filling at the center of the dough rather high (diameter of the filling, about 18cm; height about 12cm), then fold and wrap the dough around the sides of the meat mountain. I found that you can erase the creases in the dough by rubbing them down patiently with fingers dipped in cold water.
Roll out the remaining third of dough in a circle (about 20cm in diameter), make a steam vent in the center. Before you pop the top on, brush the side that's going to be inside with eggwash (one egg beaten with a tsp of milk). Stick it on top of the pâté, and weld the top with the sides. Brush the entire thing lavishly with the eggwash.
Bake in a preheated oven at 425°F for at least 20 minutes, or until the crust is nice and golden, then reduce the temperature to 325°F and bake until the interior temperature reaches 150°F. It took me a good 50 minutes. I also had to take the tray out several times to empty the succulent juices seeping through the bottom, for fear that the crust would go soggy. When you're good to go, take the pie out, give it five minutes and then slide it onto a cooling rack so that the pie doesn't sit in its juices. Some juice was also coming out of the steam vent and I emptied it. I guess it would be ok to leave it if you were going to eat it warm, but I was going to serve it cold on the day after.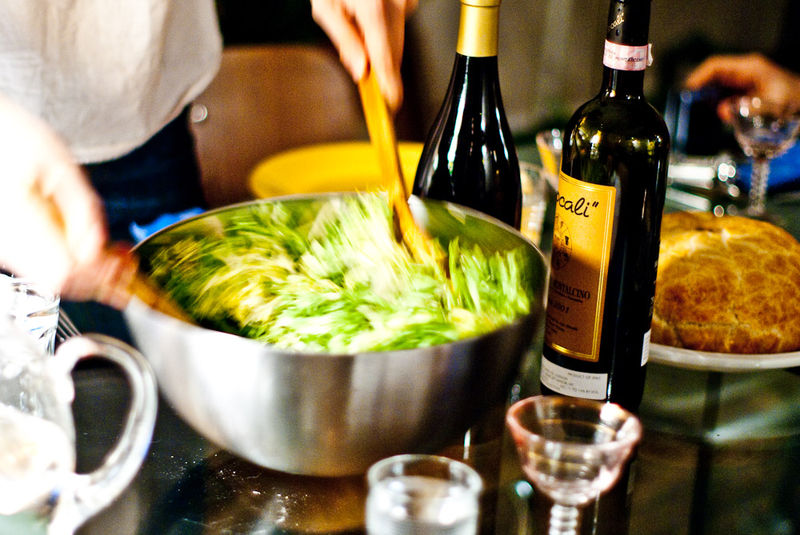 I didn't need to make an aspic, because there was no space between the filling and the crust once baked, possibly because I used so much ham, which doesn't shrink when cooked. Not that it needed the aspic either, mind you. Once completely cooled, I put it on a dish, clingfilmed the whole shebang, and put it in the fridge.
Well I hate to brag, kiddos (je ne veux pas me faire mousser, mes bons petits), but that pie knocked our socks off. It was perfectly self-sufficient, although nicely paired with grain mustard, pickles, frisée, and one (or two) (or three) glasses of delectable Brunello di Montalcino and Crozes-Hermitage. How perfectly European in spirit. For dessert, Marc baked, as we were licking our chops (pendant qu'on se léchait les babines), a wonderful sticky toffee pudding - the most gooey and volcanic-looking treat to finish off with. I shamelessly scraped the sticky bits at the bottom of the plate, squandering the little French glamour that I had managed to uphold to that point.
The leftovers were almost even nicer on the day after. What? You're still reading? Chop chop, off to the butcher's, ladies and gentlemen. Et que ça saute!